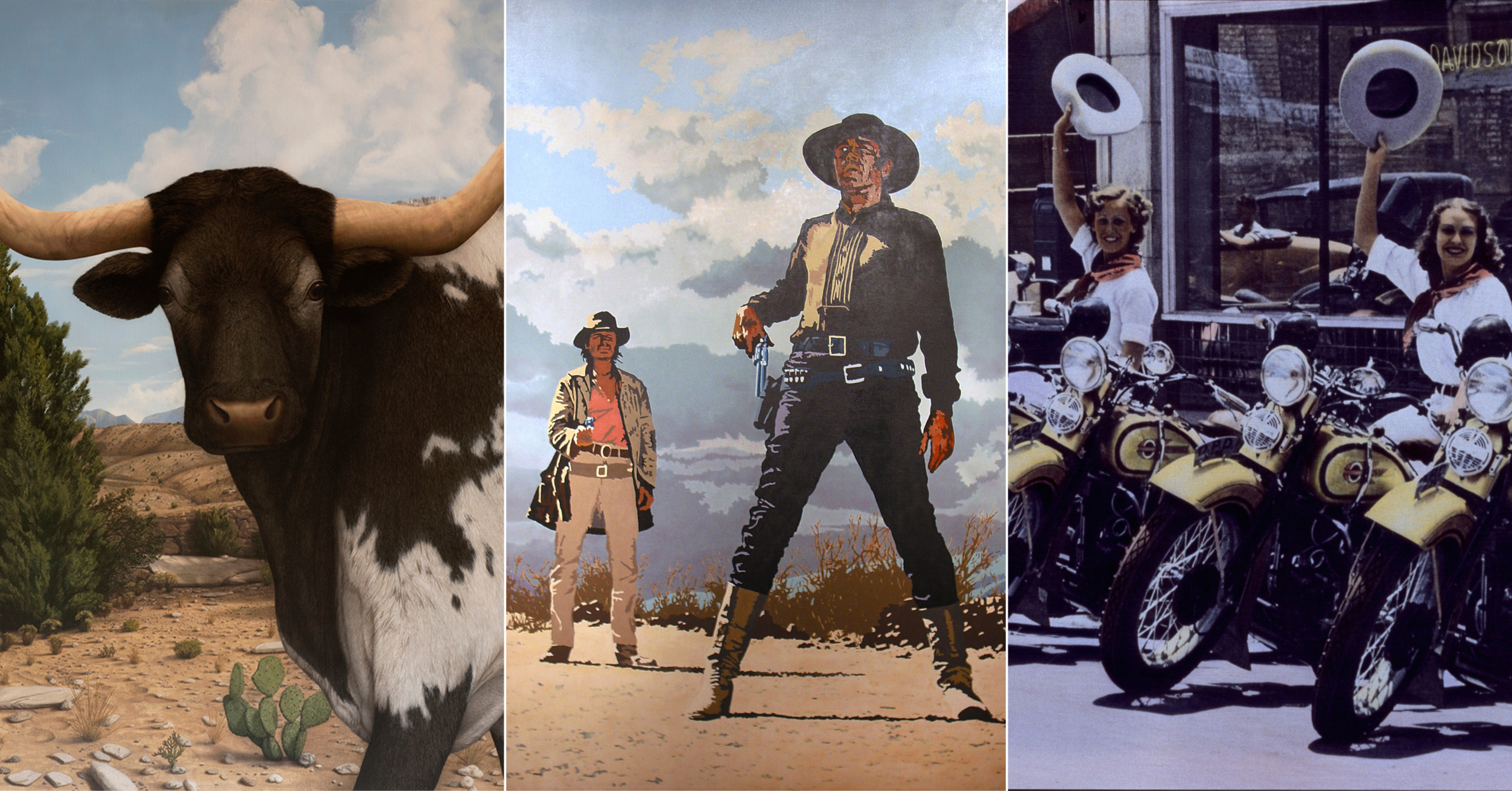 Join Chief Curator Dr. Julie Sasse in a conversation with art critic Lisa Wade and artists Tom Palmore and Billy Schenck as they discuss the rise of contemporary art in the wild west and the impact of Elaine Horwitch on their careers.
11:00 a.m. reception (Leadership Circle members only)
1:00 p.m. lecture (open to the public)
—
Included with museum admission; free for museum members and students with ID. Culture Pass, guest passes, and other forms of complementary admission will not be accepted for this event.
—
Left: Tom Palmore, Texas Jack (detail), 1988, acrylic on canvas, 72 x 96 in. Private Collection New Mexico. Courtesy of the Artist, Photo credit: James Hart Photography, Santa Fe, NM. Middle: Billy Schenck, Wyoming #44 (detail), 1973, oil on canvas, 84 x 72 in. Collection of the Tucson Museum of Art. Gift of Ivan and Marilynn Karp, New York, NY. 1996.200. Right: Bob Wade, Cowgirls & Harleys (detail), 2016, acrylic on digital canvas, 17 x 48 in. Collection of the Tucson Museum of Art. Gift of Dede Rogers. 2017.2 © Bob Wade
—
Leadership Circle is the Tucson Museum of Art's foremost philanthropic membership group. Leadership Circle members make an incredible difference in supporting and sustaining the Tucson Museum of Art's permanent collection, exhibitions, and programs.  In appreciation for this support, Leadership Circle members enjoy exclusive programming, invitations to meet prominent guests, and VIP service.
For more information or to JOIN Leadership Circle, contact Lisa Jensen, Membership and Development Associate, at ljensen@tucsonmuseumofart.org or (520) 624-2333 ext, 7107